Five of us living this God-breathed life together.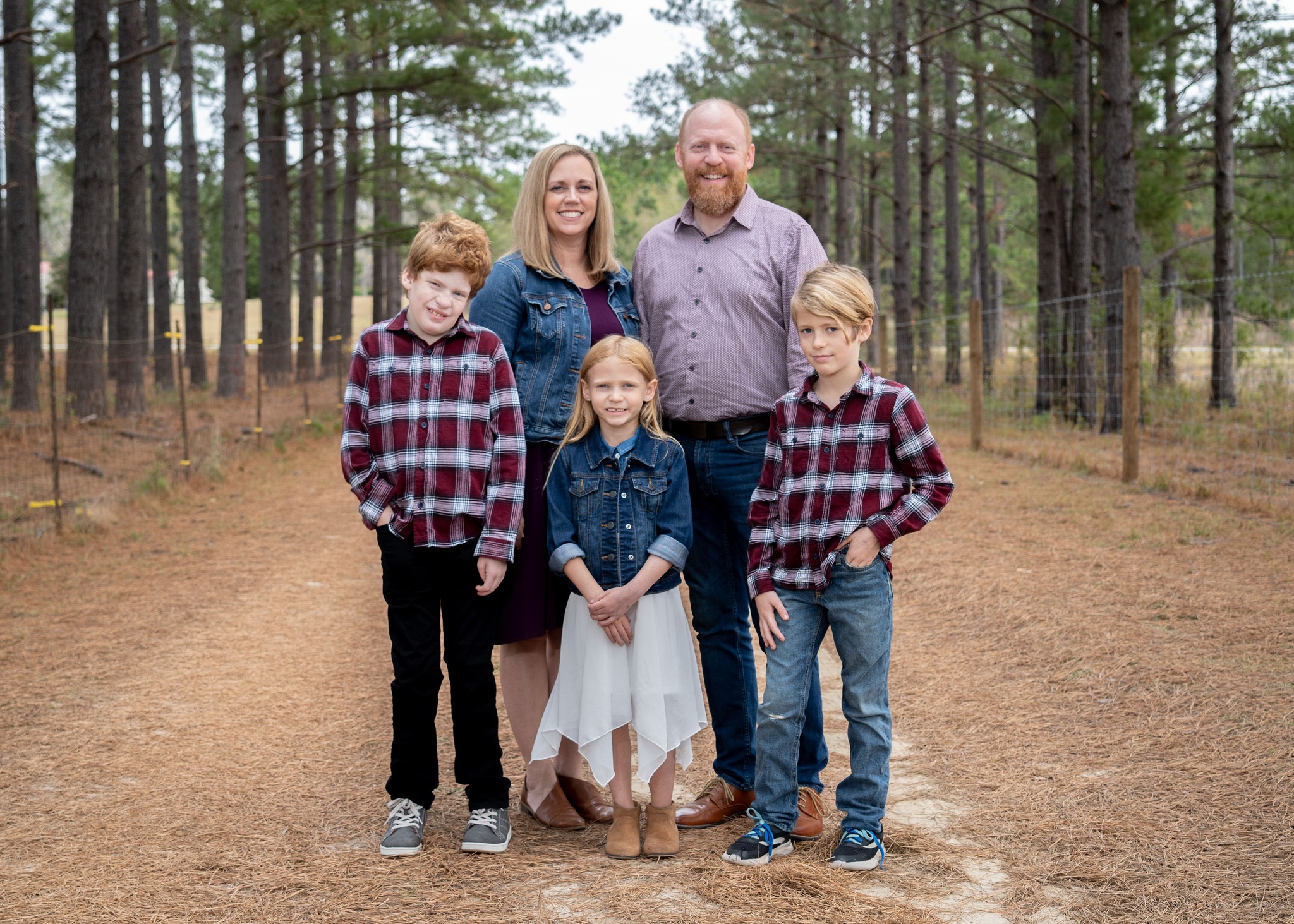 Our story involves a chance meeting at Starbucks (even though then I didn't drink coffee then), a motorcycle, half a watermelon, and a few up-til-4 a.m. conversations. About ten months after that motorcyclist showed up with two of his roommates and his leftover watermelon to my 4th of July party, we said "I do." I count it no small grace that this year we celebrate our 14th anniversary.
Ben's an executive leadership coach, pastor, entrepreneur, and masterful woodworker. Clearly, he has more talents than is reasonable. And I admire him completely.
In our 14 years married, we've lived in seven eight nine different houses in two different states and have three fun, curious, persistent, adventurous kiddos. Let me introduce our crew.
Six months post-nuptials we were expecting our first baby. He, as most first babies do, changed our life. But it wasn't until just before his first birthday that we would understand exactly how much our lives had been changed by that sweet red-headed boy.
Genetic testing showed that Reed lives with a rare chromosome disorder. As his cells were forming and for reasons unknown, things went a bit differently than usual, forming a precious and most exceptional boy.
At 12 years old, his favorite color is red, he loves his matchbox cars, and this boy loves to be outside (swinging in a hammock, preferably). He's insanely good at puzzles. He's got his daddy's astute navigating skills and his mama's deeply run emotions. I love nothing more than to see the bright look in his eyes when he's accomplished something new, ventured brave to try something on his own, or used his generous spirit to connect with another person.
Our middle kiddo does not meet a stranger because, for this wide-open spirit, there's always room for just one more person at the table! People routinely tell me that he'll be president one day. Nicknamed Joy to the World (by my Mamaw) as a baby, he talks, sings, runs, skips, bounces, and exuberantly bounds through most days. He has his mama's love for words and his daddy's self-confident determination, with a dash of his Aunt Erin's mischievousness.
His current obsessions include Pokemon, Roblox, reading and writing books, and baking. He wins title for the loudest person I have ever met, and his love is equally as loud and wonderful. Without question, he brings so much light to our family.
Ansley, our seven-year-old who we affectionately call "baby" more than her given name, is the yin to Luke's yang. She spends more time cartwheeling and back flipping than actually walking, loves Harry Potter, and works harder than most people I know. Her favorite color is pink or purple, loves to snuggle with me or her dad, and has the best laugh you'll ever hear.
---
We embrace the gift of family God's given us, exactly as we know it, trusting the story He is so graciously and beautifully writing.